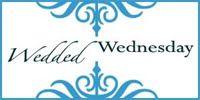 Wedded Wednesday is a collaboration
of married bloggers sharing their inspirations,
anecdotes, struggles and thoughts regarding
the amazing union of two separate people, as one.
Mr. Lukie and I are reading "Sacred Marriage" by Gary Thomas for our weekly devotional together. Something we read last night really struck a chord with me, especially during this particular season of life that I (we, I suppose) are living in:
"While our society has become expert in self-care, we seemingly have lost the art of caring for others. Sacrifice has taken on such negative connotations that people fear being a "codependent" more than they fear being perceived as selfish.

"
Oh, how true this rings in my ears! Until we married (almost!) 10 months ago, one of my biggest fears in life was becoming codependent. I refused to be "one of those" women who depended on her spouse for anything, including emotional support and certainly never financial support!
During my years as a psychology undergrad, the term 'codependent' was never discussed in a positive light. Codependence was unhealthy and certainly not the type of relationship a healthy, independent, well-educated woman would ever wish to find herself in.
Now? One of my greatest joys in life has been learning how to be in a codependent relationship with my husband. I depend on him for many, many things. ESPECIALLY emotional support (and certainly financial support, currently). So what about the positive, healthy definition of codependence that simply means "mutual dependence?"
Isn't part of the point of marriage to establish a relationship in which we can both depend on one another? Sure, knowing I can "do it all" without my husband is great--should the need ever arise. But I don't need to "do it all" when I have him by my side. Nor do I want to. That desire to be so fiercely independent has mysteriously vanished.
I don't fear being codependent any longer. I am no longer "looking out for #1" or "taking care of me because...who else will?" Instead, I am taking care of my husband. And it is my intention to do this for the rest of our earthly lives together.
**Did/do you struggle with being independent in your marriage/relationship? How did you overcome this, or what are you currently doing to resolve this?