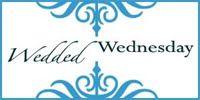 Wedded Wednesday is a collaboration
of married bloggers sharing their inspirations,
anecdotes, struggles and thoughts regarding
the amazing union of two separate people, as one.
Guess what today is?! C'mon...it's a

REALLY

big,

REALLY

important day!
...I'm waiting...

Okay, fine, I'll tell you. It's 40 days until

Valentine's Day

!
If you didn't know that, I don't blame you. I was never a fan of
Valentine's Day
until my super romantical (then) boyfriend (now hubby, duh) proposed to me with most elaborate, planned out, detailed proposal EVER. Straight outta a movie n stuff.
Anyway. The reason I'm so excited that it's 40 days until
Valentine's Day
is because that is exactly how many days there are in the
Love Dare
. The Love Dare leads you through
daily devotionals, each day ending with an act of love for your spouse. I encourage each of you to attempt this--Believer or non Believer!--because truly what it all
comes down to is stripping away the mask we put on for our ego's sake and
allows us to be raw, real, vulnerable and unconditionally loving with our
spouse, even when we don't FEEL like playing that role.
I am going to participate in this little Love Dare challenge that leads us up to
Valentine's Day
.

If you want to participate, too, you can do so really easily...without even buying the book! K-Love will be posting the Dare each day on their blog (which can be found by clicking

here
).
Let me know if you're participating, too!I think we can all benefit from a little daily reminder to love our spouse unconditionally, even when we don't feel like acting in a loving way toward them. Marriage is tough, but why not sweeten it by giving the Love Dare a chance? You never know, you could surprise yourself :)