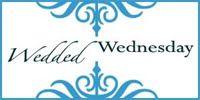 Wedded Wednesday is a collaboration
of married bloggers sharing their inspirations,
anecdotes, struggles and thoughts regarding
the amazing union of two separate people, as one.
It's not hard to become complacent with your role in marriage, at times. That notion of, "I do a lot around here, which is enough for me!" can take over. That thought of, "What more could he ask for, in a wife? Clean house, dinner on the table and snuggle time in the evenings--he's got it made!"
Lying in bed the other night, this feeling came over me. I realized I hadn't checked in with my husband in quite awhile about my role as his wife. I wanted and needed to know that the ways in which I was serving him were bringing him joy, but I was scared to ask.
(I should have known not to wait much longer than 5 minutes after laying down to ask him anything--that man falls asleep, twitching and all, in less than 30 seconds after his head hits the pillow. No joke!)
"Um. I was wondering if, um, there is anything I can do to better serve you, as your wife? I mean, uh, how can I improve in my wifely ways?"
"You're doing a wonderful job, baby" came his response.

(Maybe it wasn't such a bad idea to ask him as he drifted off to sleep after all?)
This is something we both started doing within the last few months, without having discussed it--but it sure opens up the lines of communication & allows for us each to ask for things we feel we are in need of, without feeling like we're demanding it.
Do you check in with your spouse to see if there are any ways in which you can improve in your marriage? Does he check in with you?