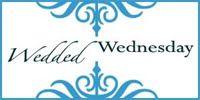 Wedded Wednesday is a collaboration
of married bloggers sharing their inspirations,
anecdotes, struggles and thoughts regarding
the amazing union of two separate people, as one.
For Wedded Wednesday today, I wanted to open up my blog to questions from you all. You can ask me (or Mr. Lukie) anything at all--it doesn't have to be a marriage or relationship based question. Ask your question(s) in the comments section, or email directly to me: mrslukie@gmail.com.
And, I allow Anonymous comments on my blog, so if you lurkers out there who still wish to remain nameless have any questions, I'd love to answer them!
If there are enough questions to do so, I'll begin answering them on Friday :)