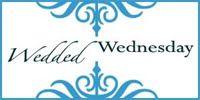 Wedded Wednesday is a collaboration
of married bloggers sharing their inspirations,
anecdotes, struggles and thoughts regarding
the amazing union of two separate people, as one.
He's not afraid to goof around & act like a kid from time to time.
He's a natural with kids. I guess it kinda comes with the territory ;)
He's ALWAYS on my team. Even when he disagrees with me.
He's a complete goofball--he'll do anything to make me laugh.
See? Anything to make me laugh :)
He's romantic. And sweet. And mushy.
(Just don't tell the guys)
He's adventurous & outdoorsy. A "Man's Man."
He's competitive. Who challenges their fiance to a pull up contest
during their Engagement Photo session? My man.
He's athletic.
And he looks good being athletic :)
He just looks good, period.
And I--WE--are so blessed.
It's the Little Things that keep a happy, healthy marriage.