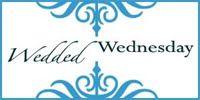 Wedded Wednesday is a collaboration
of married bloggers sharing their inspirations,
anecdotes, struggles and thoughts regarding
the amazing union of two separate people, as one.
listening, and telling me that everything is gonna be alright

reminding me that I am intelligent and successful--even if there are setbacks

telling me not to worry about the money, the time, or the future

reminding me that there is a Plan that I am not aware of, and to just let go

listening while I blubber incoherently, even if I am cutting into your time with the guys
...YOU. Being incredible, amazing, wonderful YOU. Thank you, my sweet husband.
{I will elaborate on the vagueness of this post later in the week, when I've composed myself & can type for longer than 5 minutes without crying}