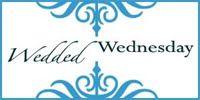 Wedded Wednesday is a collaboration
of married bloggers sharing their inspirations,
anecdotes, struggles and thoughts regarding
the amazing union of two separate people, as one.
We were reading a chapter in "Sacred Marriage" a few nights ago and this passage really stuck out to me. I thought I would share it with you all, as it is a wonderful reminder.
"If we assume that our spouse has the hardest road to travel and that we miss the mark most frequently--and then act accordingly--we'll find a mix that's just about right."
This statement sums up one of the (many!) reasons our marriage works for us. I may be tired from studying and keeping a clean house all day and want nothing more than a break from cooking or cleaning. But Mr. Lukie may come home, tired from working a 24 hour shift with countless wake-up calls in the middle of the night and want nothing more than a nap. However--if we both come at it with the belief that the other person had a rougher day and act accordingly, both parties needs have been met. I love when my husband insists on me relaxing on the couch while he takes care of dinner and the remaining chores. What I love more, though, is when I find joy in serving my husband when just moments before, the last thing I wanted to do was get up off the couch and DO.