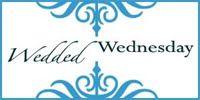 Wedded Wednesday is a collaboration
of married bloggers sharing their inspirations,
anecdotes, struggles and thoughts regarding
the amazing union of two separate people, as one.
I
'

ve never been one to have a lot of girlfriends, but rather a handful of very close, very treasured girlfriends. Since Mr. Lukie and I have been married, I have gotten together with these girlfriends for lunch or dinner, coffee or wine. And while it's nice to catch up, I tend to drive home feeling like things are just totally
different
than they used to be.
I ask myself if they've changed or if I've changed. Why is it that the relationships seem to require so much more work now, and when we do get together, the conversation isn't all that stimulating? I've come to realize that they really haven't changed--it's me that has changed. My life has changed. That is to be expected in marriage--my priorities are much different now than they were 2 years ago. I'm not in the same place in life as they are (and rightfully so! I wouldn't expect them to want to be at home by 6pm to get a hot meal on the table for their roommate...)
This isn't to say that I don't still enjoy my friends company & miss having them be such an important part of my life. I love them just the same and still think they are wonderful people. It's just...different now. Not in a bad way, not in a good way. Just different.
Tell me, has marriage changed your friendships (good or bad)? Do you have more "couple" friends that you hang out with now as opposed to your "single" friends?