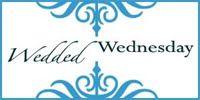 Wedded Wednesday is a collaboration
of married bloggers sharing their inspirations,
anecdotes, struggles and thoughts regarding
the amazing union of two separate people, as one.
You know that saying, "When life throws you lemons, make lemonade?" Yeah, we know it all too well, lately.
Our marriage has been great--no spins on the crazy cycle, communication is open & flowing, lots of laughing & silliness, and lots of great, quality time spent together.
It's just, everything else that seems to be not so great:
We don't have renters in the house we own (that is 74 miles outside of San Diego). We haven't had renters in there for almost 1 month (which means we're paying the mortgage on the house AND rent on the house we live in now).

Because we don't have renters in that house, we may be moving there in the middle of May, just after my finals at school.

Speaking of school, I forgot to drop one of my classes (Organic Chemistry) by the "drop deadline." Thus, I have to submit a petition & it goes before a board. Then THEY decide if I am 'allowed' to drop it so that I don't have an 'F' on my transcripts.

Having a roommate is hard. Factor in having a roommate as a married couple and it's really difficult.

Mother-in-law problems haven't ceased (or really even been resolved), as originally thought.

Over Easter, my father told me that his kidneys are failing--he has 70% usage in one and only 25% usage in another. He needs a kidney transplant, but they can't get his blood pressure low enough to even consider surgery.
But would you know that through all of this, our spirits have not dampened? We are not anxious about what the future holds in ANY of these situations. We feel calm and at peace about them all. I am not consumed with feelings and thoughts of how I can take control of these situations & "fix" or change them, as is my typical mindset.
I am so grateful for a husband who, when given lemons, just hands them over to God and says, "Here, God. I'm giving You our lemons, for You make lemonade far better than we can."