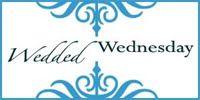 Wedded Wednesday is a collaboration
of married bloggers sharing their inspirations,
anecdotes, struggles and thoughts regarding
the amazing union of two separate people, as one
.
"I have great hopes that we shall love each other all our lives as much as if we had never married at all." -Lord Byron
I'm one of "those" girls. You know the type--she swoons over sweet text messages, notes and cards left for her by her husband. She gets excited to see him walk through the door when he arrives home from work. She gets caught staring at him with a grin on her face because she was either thinking, "Wow. How'd I manage to snag him?" or "Dang, I married one handsome dude!"
We're one of "those" couples. You know the type--we've been caught giving each other googly eyes across the room. We accidentally bump someone else's leg trying to play footsie under the table. We schedule plans with friends when we know the other person is busy with work or school or another commitment, just so we can spend as much time together as possible.
We're also one of those couples who have been warned. Warned about what it's "really" like to be married. "Just wait another few years, you'll be begging for him to work an overtime shift!" and "Sure, you're all cutesy now, just wait until babies come along. All you'll care about is sleep and the kid," or "Honeymooners--remember that phase? How quickly it goes by, and how you swear you'll never move past it. HA! Then real life happens! You'll see..."
Call us naive. Call us silly, call us dreamers, call us eternal optimists. Call us simple-minded, or call us ignorant. But we will keep our eyes googly, our footsies searching and our schedules open for rendezvousing.
After all, he's the only man on earth I've committed myself to, and him, me. So we're going to make the best of it, googly eyes and all.